---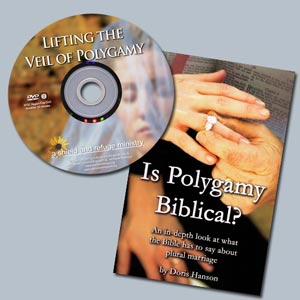 We are offering anyone these free materials--a DVD entitled Lifting the Veil of Polygamy which contains the compelling stories of women and men who have left Mormon Fundamentalism and encountered Jesus Christ; and a Booklet entitled Is Polygamy Biblical? which is an in-depth Bible study on the topic of polygamy.
These materials were made with both our Fundamentalist and Mainline Mormon neighbors in mind, and we make them available, at no cost, to anyone who seeks to know more about polygamy and what the Bible has to say about it.

We will maintain your confidentiality. The information you provide us will ONLY be used to send you the materials you've requested, and nothing else. We will not share this information with anyone else, and no one will contact you further (unless you specifically request it.)
---
To proceed with your request, please select the option below that best describes your request:
DISCLAIMER:
This offer presumes upon the good faith of the requester. This offer is honored entirely at our discretion, and is available only to the extent that resources allow. Due to high postage costs, requests for materials sent outside the United States, may not be honored (except where postage costs are covered by requester). Cases where abuse of the request form is suspected, or where large quantities of requests appear to originate from one individual, or where no apparent valid recipient name is included, may not be honored.